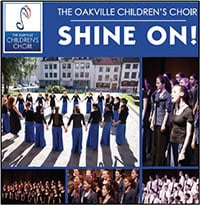 Shine on!
The title of our CD reflects the spirit and vision of this recording: to express through singing the message of joy that young people bring to the world. We are excited to feature a diverse range of choral music from gospel to popular music, from more traditional choral works to newer compositions, and from folk music to vocal jazz. In all of the songs, we have chosen to focus on texts that express a range of emotions all of which mean something of importance to the young people who are singing them. We are proud of this recording and the singers who contributed so much to the artistry of this musical endeavor. Keeping singing and shining on, always!
A Canadian Choral Kaleidoscope
We are very proud to be presenting a recording of Canadian choral music. We have been privileged to have commissioned new Canadian choral music for The Oakville Choir for Children & Youth and also to have had new music written and dedicated for us such as Govedas' marvelous Mulligatawny Macbeth, Jamie Hillman's beautiful Who Would Have Thought, and the energetic 3, 2, 1…. Recess Fun with poetry by OC chorister Robert O'Halloran and composed by Janet Stachow. We continue to strive to perform new Canadian choral music through all of our OC choir programs! Enjoy this special CD that highlights beautiful new choral music from our great country!